Welcome to Friends of Hunua Ranges
Supporting and assisting the protection and use of the unique Hunua Ranges
We will be working alongside Auckland Council and hope to have the involvement of anyone and everyone who uses the Hunua Ranges – there are a lot of users, from forestry and Watercare to recreation groups and individuals to hunters and DOC. Any users who would like to be part of the Friends, let us know!
Great to see the opening of the new reception/office area at the Kokako Lodge (near the Hunua Falls), a much-needed improvement. The Lodge is a wonderful 85 bed facility right next to all the activities by the Falls. See www.kokakolodge.org.nz
Anyone looking for a research project?
How about the relationship between native bees and the forest and the impact of Varroa mite?
If you are going to the Ranges, please be careful and follow instructions posted in the area about Kauri Dieback disease. This is a deadly disease, killing kauri trees throughout the Auckland region. The Hunua Ranges are currently a healthy kauri area - help us keep it this way.
Park information: http://regionalparks.aucklandcouncil.govt.nz/hunuaranges
AristoCakes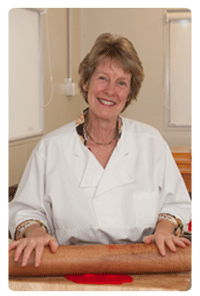 As an originating member of the Friends of Hunua Ranges committee, Clevedon based Mary Whitehouse has a long history of volunteer effects in bettering her local region which naturally includes the Hunua Ranges.
And that is not the end of her talents - Mary makes cakes, amazing cakes. We asked Mary to tell us more...
"Sweet baking, especially cakes, have been my passion since a child. I could never resist decorating an apple pie with pastry roses or a plain cake with icing. Fruit flans became works of art and the annual Christmas and family birthday cakes ever more elaborate!
For many years I indulged my passion around a full time occupation, but since 1996 the passion has been taking over and is now my work. During this time I have made literally hundreds of cakes, ranging from the intricate to the very simple.
I have a Cordon Bleu cookery qualification from the London Cordon Bleu School and have done numerous courses in the art of decoration, although, like most cake artists, I am predominently "self taught". My first wedding cake was a commission whilst at university – I am an engineer which is often especially useful when constructing the sculpted cakes!
I have a specialised baking kitchen and am always trying out new recipes and techniques. I love a challenge so do contact me to discuss a masterpiece for your next celebration."
So no matter what the occasion, you know you can count on AristoCakes to make it special with one of Mary's amazing creations.
Check out the AristoCakes website here.