Gabb
Committee Member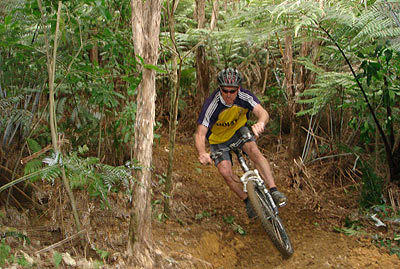 UNIQUE RIDING MOUNTAIN BIKING IN THE BUSH
Friends of Hunua Ranges committee member Gabb has been enjoying the ranges for many years, both riding and creating the network of mountain biking (MTB) tracks in the Moumoukai Valley with the Auckland Mountain Bike Club...
"In the valley below the Mangatawhiri Dam there are several loops of great single track that weave through regenerating native bush and paddocks left over from the attempts to farm the area more than 50 years ago.
The riding here is somewhat unique for the Auckland area in terms of winter-friendly trails through the stunning mix of Manuka and Kahikatea. There are even a couple of specialty (fast) downhill tracks for the true adrenaline junkies to enjoy. The trails are free to ride any day of the year thanks to Auckland Regional Parks and scores of volunteers who have helped build and maintain them over the last two decades and we all continue to look forward to further developments as the sport of MTB grows in Auckland."
Gabb has seen the valley trails in many different lights and moods, but his favourite is post-rain, "The trails have been reinforced to make them all-weather and after a rain the colours are especially vivid, especially if you are lucky enough to have sunlight peeking through the canopy of Manuka."
Find out about the Hunua MTB trails at www.aucklandmtb.co.nz
Below: Gabb has been lucky enough to own this stunning painting by Sam Foley who rode the trails with Gabb to capture a shot of one of the many trails that he has worked on.