DOC200 TRAP
Get your DOC200 now!


Support FoHR and
order here!
The DOC 200 trap was designed by the Department of Conservation for killing stoats and rats "for the benefit of all New Zealanders with the ultimate aim of protecting and retaining the last remnants of New Zealand's unique living taonga". They developed the trap because the industry needed a trap that humanely kills stoats. It is also suitable for rats and hedgehogs, 2 other pests of New Zealand bush.
And now thanks to our industrious DIY expert Louis, we can offer you a fully equiped DOC200 trap-in-the-box to help you help the Hunua Ranges (or wherever else you may chose to locate your trap).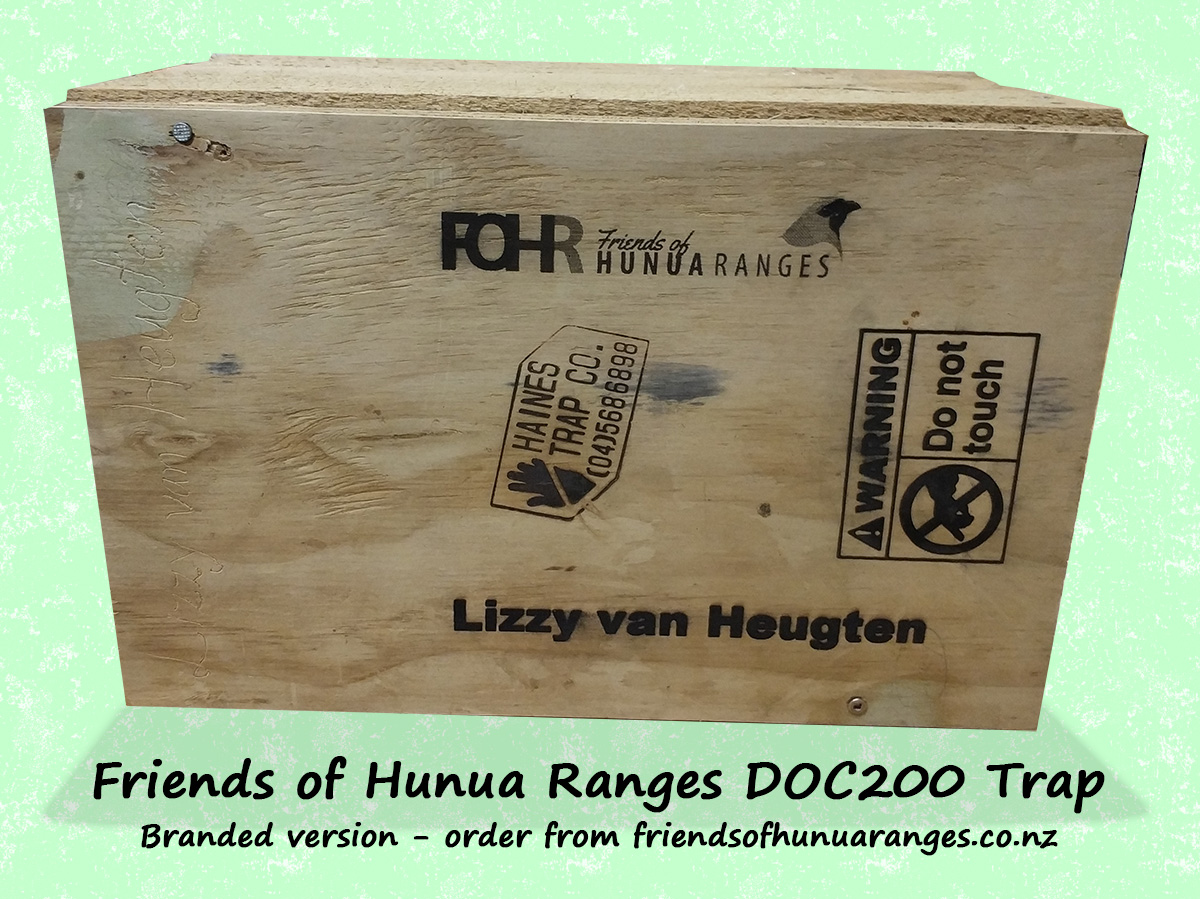 We can apply your name to your box - or your company name when you sponsor a DOC200!
Working with the DOC200 is easy...bait with a fresh egg, set the trap and then check regularly. Click here for a printable 1-page PDF Instruction Manual (113Kb PDF file, opens in new window).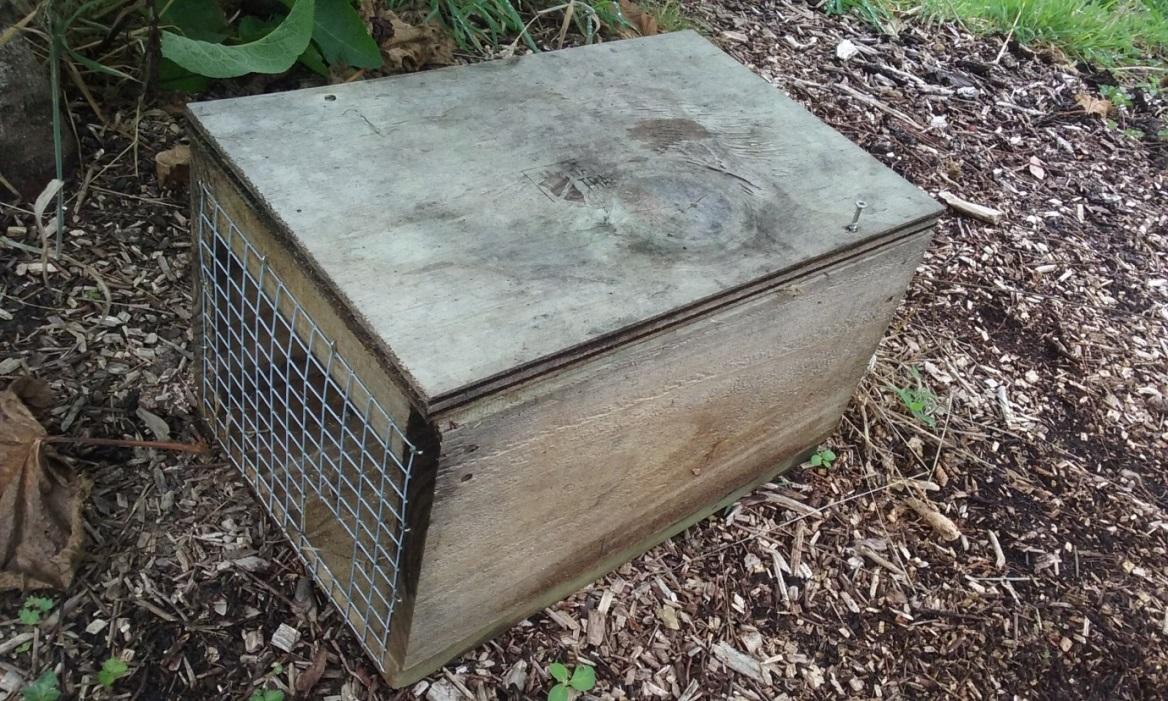 A well used stoat/rat box as used in the Hunua Ranges
These sturdy wooden boxes, each complete with a fitted DOC 200 trap, are tried and tested ways of catching those pesky rats and stoats and even hedgehogs (yes, they are very destructive to our native birds whatever you thought of Mrs Tiggywinkle!)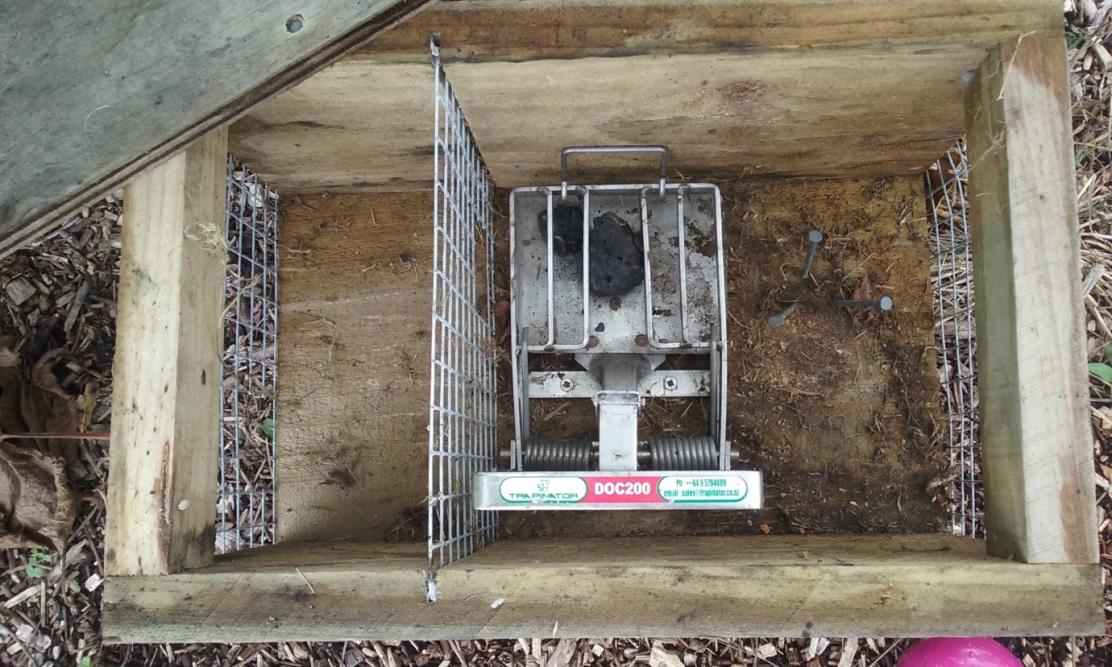 Overhead view of sprung trap (with a stone for illustrative purposes)
We can't guarantee success, but from personal experience they are very effective, environmentally friendly and cost effective allowing less poison to be used. They are the same boxes as used on many pest management programmes, in the Hunuas and other parts of the country.
They are simple to set, and pet-safe. A fresh egg is good bait and is simply put on the supplied nails. Fresh rabbit can also be used. If you are after a ferret, you can enlarge the holes in the mesh by one square, but beware of inquisitive small pets! Full instructions come with the box.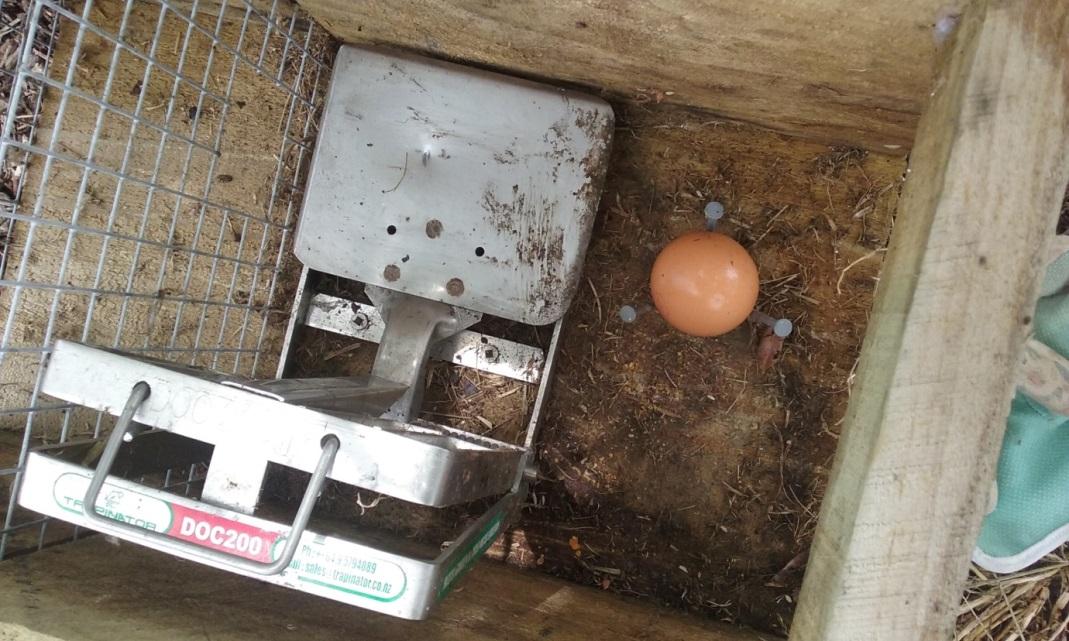 DOC 200 set and egg in position, ready for the kill!
We suggest that you check the trap every couple of days as it is much easier (and pleasanter!) to clean out a fresh rat than one a few days old (we'll leave the description to your imagination!)
Only $125 incl gst and delivery in local Hunua and surrounding area - click here for to order online now.
Not local? - contact us for a delivery quote or to collect